Station46 History

Robinvale Euston's premier and only dining experience on the Murray River!
Lunch • Dinner • Cafe • Bars • Lounge
The Pioneers of Station46
History of Euston Station, New South Wales
Euston Station derived its name from the stately mansion in Suffock, England, called "Euston Hall", owned by the Earl of Grafton. Euston is also one of the oldest townships in New South Wales.
Euston Station's story is quite a romantic one. In 1846, Edmund Morey (born 1826 in Chatham, Kent, England), a mere young man left Canally Station accompanied only by an local Aboriginal guide, a dray, a few cattle and sheep trekked down the Murray River and squatted on the fresh pastures of part of a new run called Boomiarcool. Morey's section of this run was later called Euston Station run.
It was a bold move even for an experienced pioneer, let alone a young lad, for Boomiarcool was at the extreme western limits of colonisation of NSW at the time. There was no real contact with either Sydney or Melbourne, or any other settlement of consequence in the area. Yet, Morey was successful and prospered. He continually added to his original run by acquiring additional adjoining lands including Garnpang, Pan Ban, Manfred, Kilfera, Kapar Kora, Prungle, Arumpo and others.
When Edmund Morey sold Euston Station in 1862 he went to Queensland and worked with the public service. He died on the 10th February, 1913 in Marybourough.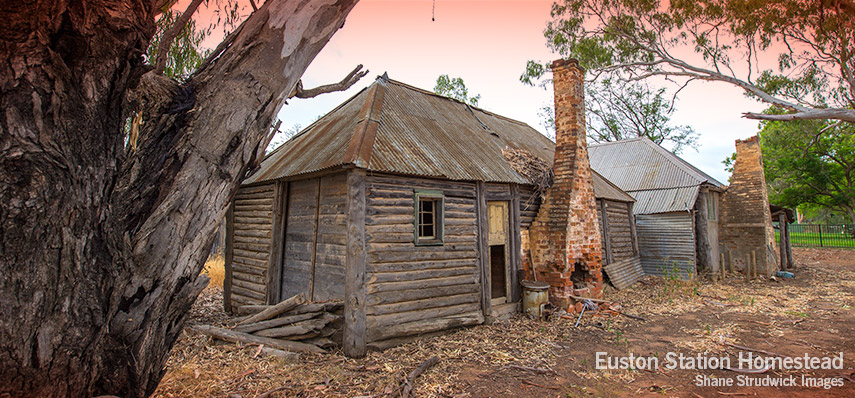 Euston Station came into the hands of Bertram and Alf Taylor. Droughts crippled the partnership of Bertram & Taylor and they sold Euston Station to William Kilpatrick in the 1880s. After William's death in 1916 it was administered by his executors.
Edmund Morey's original Euston homestead still stands today that was built on the banks of a lovely billabong near the Murray River. A newer homestead was built adjacent to the original around 1920 but was destroyed by fire.
The woolshed at Euston Station run in the olden days, blade shearers shore 45,000 Merino sheep and when the machines evolved the shed installed 16 sheep shearing stands.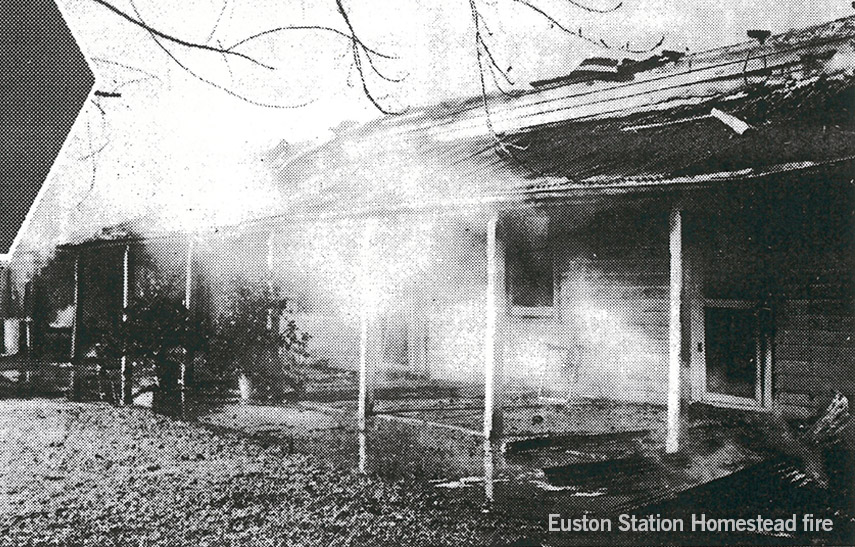 At the eventual subdivision sales of Euston Station in 1946 it had grown to 1,000,000 acres (404,000 hectares) covering 146 square miles (378 square kilometres) due to the other land acquisition by Edmund Morey. The final subdivision of 65,715 acres (26,593 hectares) of the immense original run was divided between James N. Spittle of Hattah and A. G. Woodhead, former manager of Moorna Station at Wentworth.
Woodhead and Spittle agreed to subdivide and sell the areas adjacent to the river for irrigation blocks and graze the back country for wool growing. They agreed to halve the property and tossed a coin to see who would have first choice. Spittle won the toss and he acquired the half nearest the town of Euston and gained the homestead. Woodhead received the section near picturesque Lake Benanee.
About 1968, Spittle (junior) sold Euston Station to Lawrence and Alma Tyack came from Werrimul. After a quiet period, Euston Station began to come to life again with the new era of irrigated vineyards, orange orchards and vegetable growing.
Station46 holds the heritage of our pioneering region at the Euston Club Resort. It's a meeting place for the local community and visitors. A place to replenish and restock; in the vision of Edmund Morey we hope you'll enjoy our station!

Come and visit the newly redeveloped and
exciting Station46 at the Euston Club Resort